Zettelmeyer steamroller

The roller, which used to stand in the Konzer Bahnhofstrasse, is a symbol for the largest company in the Saar-Moselle city. The history of Zettelmeyer Baumaschinen GmbH is closely intertwined with the city and its residents. Thousands of companies worked there. The Swedish company Volvo, which Zettelmeyer took over 100 percent in the 1990s, is still the largest employer today.
And Volvo has also ensured that the 15 tonne roller has been restored. The companies Volvo and Auto Hoff came to the rescue. The main work "on the object" was done by Volvo trainees. The steam roller reflects the industrial history of the city of Konz and is a landmark of our city.
In mid-May 2021, the renovated historic steam roller was set up as an industrial monument at the entrance to the city of Konz - at the furniture Martin Kreisel (corner of Am Luxemburger Damm / Am Moselufer).
---
In 1935 the machine was built by Zettelmeyer in Konz. In the late 1950s or early 1960s, she steamed across a road construction site one last time to roll out the fresh surface. At that time, tar was usually used instead of asphalt. However, it was spared the fate of a "junkyard" afterwards: the city of Konz acquired the steam roller and set it up on Bahnhofstrasse as a memento of a great industrial tradition.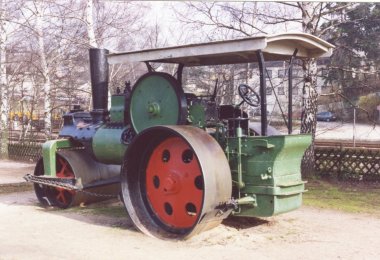 The roller as a climbing device

In Bahnhofstrasse, it served as a popular climbing device for Konzer children for around five decades. But then rust and decay ate their way deeper and deeper into the old steel technology, and in the end the scrap yard was still a threat. The city found help from the construction machinery manufacturer Volvo, the successor to Zettelmeyer. Volvo offered to refurbish the machine in its factory, while at the same time serving as a teaching object for trainee industrial mechanics. Volvo received support from Oswald Hoff Autovermietung GmbH.
The repair of the steamroller was designed as a trainee learning project as part of a sponsoring project with the Konz-based company Volvo Construction Equipment Germany GmbH and the company Oswald Hoff Autovermietung GmbH from Trier. The trainees of both companies gladly accepted this challenge and took on the beautiful but also technically very demanding project. It was worked true to detail according to the original drawings. Step by step, many parts were welded and manufactured, painted and assembled true to the original.