Portrait of the city of Konz
Portrait of the city of Konz


conc - with its districts of Könen, Niedermennig, Krettnach, Obermennig, Oberemmel, Kommlingen, Filzen and Hamm - is the second largest city in the Trier region and is located at the confluence of the Saar and Moselle, about 8 km from Trier. Despite the physical proximity to Trier, Konz fulfills all the functions of a fully equipped medium-sized center. That is why Konz was officially elevated to the status of a town in 1959.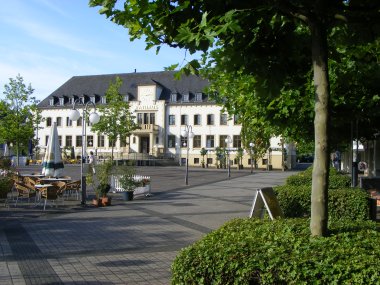 A historical look back leads back to Roman times, when the city as Contionacum was the summer residence of the Roman Emperor Valentinian and the gateway to Trier, as well as an important settlement on the Saar bridge on the Trier - Metz road. The medieval core of the settlement developed with a church, vicarage and the castle house of the landlords in the area of the imperial palace. The Roman bridge over the Saar, where the Battle of the Konzer Bridge took place in 1675, points to a strategically important location of the town.
With the assignment of the new French canton administration, the old Konz (1563 approx. 200 inhabitants) was given a central function for the first time in 1798, which then became a Prussian mayor's office in 1816.
In terms of industry and urban planning, the city originally developed through the railway, even though most jobs were lost on the Konz-Karthaus railway in the 1950s. The railway systems were dominant for Konz, which also included railway bridges over the Moselle and the Saar. The second railway bridge, popularly known as the "Hindenburg Bridge" (put into operation in 1912), crossed the Moselle, but was destroyed at the end of the Second World War.

The road construction and mechanical engineering company Zettelmeyer was founded in 1897 by Hubert Zettelmeyer. In addition to the railway, this operation was another guarantor for the industrial development of the city. In 1981 the traditional company was relocated from the city center to the Konz-Könen industrial area.
The job losses on the railways were secured at least in the medium term by the settlement of two other companies in the plastics and textile processing industry (Pegulan and KUAG) at the end of the 1950s and the beginning of the 1960s. The city's industrial base was preserved and also provided the basis for developing further large building areas, especially in the "Berendsborn", "Canet" and Roscheiderhöhe areas.
In order to set cultural and national accents, the city of Konz acquired the monastery of St. Bruno Karthaus in 1963 (renovation and expansion into a cultural center) and in 1969 the Gut Roscheider Hof (construction of a folklore and open-air museum). Konz now has a city library and a local adult education center. In terms of culture and sport, around 120 clubs offer a very wide range of voluntary activities.