district of Kommlingen

This district is still characterized by agriculture and viticulture on a hill 3 km south-east of Konz. In addition to a wonderful view of the Saar-Moselle triangle, the place also offers a functioning village life. As "Cumelanch" Kommlingen was first mentioned in 975. But Celtic and Roman finds point to an older settlement.
During the affiliation to Electoral Trier, Kommlingen ( Comblingen ) assigned to the Saarburg office. Due to the consequences of the Thirty Years' War and the plague, the village had only a few inhabitants in 1645.
After French revolutionary troops took possession of the left bank of the Rhine, the town was part of the French Republic from 1798 to 1814 (until 1804) and then the French Empire. After Napoleon's defeat, Kommlingen became part of the Kingdom of Prussia in 1815 based on the agreements made at the Congress of Vienna. The place was assigned to the mayor's office of Konz in the district of Trier in the administrative district of Trier, which in 1822 became part of the newly formed Rhine Province.
As a result of the First World War, the entire region belonged to the French part of the Allied occupation of the Rhineland. After the Second World War, Kommlingen was one of the communities in the French occupation zone that was annexed to Saarland in February 1946, but in June 1947 it was also one of the towns in the Saarburg district that were reintegrated and became part of the then newly formed state of Rhineland-Palatinate.
On June 7, 1969, as part of the administrative reform in Rhineland-Palatinate, the previously independent municipality of Kommlingen, which had 231 inhabitants at that time, was incorporated into the city of Konz.
In the 1970s, as part of the village renewal, the village square was redesigned and in 1988 the "Wedding Fountain" or "Donatus Fountain" created by the sculptor Willi Hahn was installed. The various efforts were made in 1993 by winning the Rhineland-Palatinate competition Our village should become more beautiful / Our village has a future appreciated.
---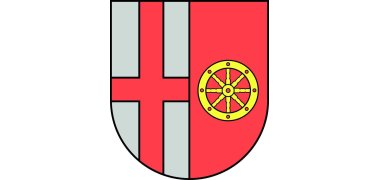 Heraldry (Heraldry)
The coat of arms shows a continuous red cross in white on the front in a split shield, and a yellow eight-spoke wheel in red on the back.

The electoral cross of Trier is an indication of belonging to secular rule, while the wheel is a symbol of the local patron saint, St. Catherine, that's true.