Oberemmel district

In the direction of Wiltingen, at the end of the Konzer valley, there is the large Konzer district of Oberemmel, which is still strongly characterized by winegrowing today.
The first documentary mention was in the year 893 as Embilaco . The name continued to evolve Emmel (1036) and Emmel (1373).
Since the Middle Ages, the Trier Abbey of St. Maximin has maintained its largest and wealthiest serf court, the "Burg", which was destroyed in 1663 - but then rebuilt in 1732 as a court estate. After long disputes, the monastery was placed under the sovereignty of the Electorate of Trier in 1669. In the second half of the 18th century, Oberemmel was one of the four high court districts of the Office of Maximin.
The occupation of the left bank of the Rhine by French revolutionary troops ended the old order. The town became part of the French Republic (until 1804) from 1798 to 1814 and then the French Empire. The Mairie Oberemmel was assigned to the canton of Konz in the arrondissement of Trier in the Saar department. After the defeat of Napoleon, the community came to the Kingdom of Prussia in 1815 based on the agreements made at the Congress of Vienna. From 1816 to 1858, Oberemmel was the seat of a Prussian mayor's office in the district of Trier, which included Krettnach, Obermennig, Lampaden, Obersehr and Niedersehr, Paschel and Pellingen. In 1858, the mayor's office, which was already in personal union, was incorporated into the mayor's office in Konz.
As a result of the First World War, the entire region belonged to the French part of the Allied occupation of the Rhineland. After the Second World War, Oberemmel was one of the communities in the French occupation zone that was annexed to Saarland in February 1946, but in June 1947 it was also one of the towns in the Saarburg district that were reintegrated and became part of the then newly formed state of Rhineland-Palatinate.
On November 7, 1970, as part of the administrative reform in Rhineland-Palatinate, the previously independent municipality of Oberemmel, which had 1045 inhabitants at that time, was incorporated into the city of Konz.
---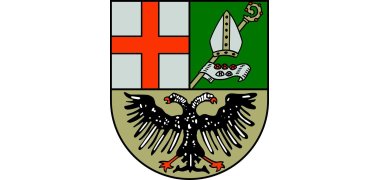 Heraldry (Heraldry)
The coat of arms shows in the upper left half a red cross on a silver background, on the right a bishop's hat and staff on a green background, including 5 glowing coals on a cloth loosely wrapped around the staff, in the lower semicircular black double-headed eagle in a golden field.

The red bar cross is the Electoral Trier coat of arms; Bishop's staff and hat point to the parish patron, St. Bricius, whose contested innocence was proved by a divine sentence - glowing coals.
The municipality of Oberemmel belonged to the electoral office of Maximin in Trier and therefore adopts the double-headed eagle from its coat of arms.