Verbandsgemeinde Konz: With the e-bike on a business trip - Westenergie sponsors two e-bikes for administrative employees

Conc, July 7, 2022
Electric cycling is trendy: Westenergie promotes electric mobility in the region and supports the Konz municipality in purchasing two electric bicycles ("e-bikes"). Specifically, administration and Westenergie share the acquisition costs.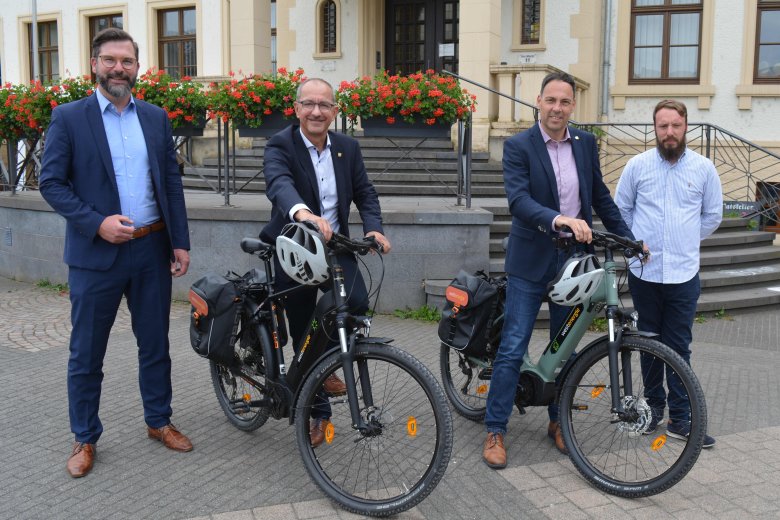 Photo: Happy about the two e-bikes from Westenergie, which are now being used by the Konz municipality for business trips: Christian Nathem from Westenergie, Mayor Joachim Weber, Guido Wacht (first councilor of the Konz municipality) and Roman Prager (municipal administration) . (Photo: David Kryszons/West Energie).
On behalf of the municipal administration, Mayor Joachim Weber received the modern e-bikes from Christian Nathem, who works in the area of municipal support at Westenergie. In the future, the two electric bicycles will be available for business trips for around 140 employees in Konz. "The e-bikes are an environmentally friendly and exercise-promoting alternative to the car," says Mayor Weber. "That's why we want to integrate e-bikes more into the everyday life of the municipal administration. In this way, we not only protect the environment and do justice to our role model function as an administration, but also do something for the health of our employees."
Christian Nathem from Westenergie added: "E-bikes are much cheaper and more environmentally friendly than a car and offer much more comfort than a normal bicycle. By handing over the e-bikes to the municipality of Konz, we are promoting the use of these bicycles with the electric tailwind in order to get even more people excited about e-bikes."
E-bikes are currently very much in vogue for many cycling enthusiasts and also offer people who are older or physically less fit a good way to stay mobile.