New multi-purpose playing field inaugurated in Konz - Mayor Weber and District Administrator Metzdorf "kick" with students

Conc, August 3, 2022
Whether football, basketball or handball - all three sports are possible on the new multi-purpose playing field at the school center in Konz. "The pitch has created an additional offer for children and young people, and schools and sports clubs also benefit from the facility," says Mayor Joachim Weber, who invited to the inauguration of the pitch.
Among others, representatives of the city and association council of Konz, young people and teachers from the two schools at the school center, as well as District Administrator Stefan Metzdorf, came. "It is important that sport and exercise also have a firm place in everyday school life. The new playing field will make the all-day lessons at our district schools even more varied," said the district administrator.
The 20 x 40 meter multi-purpose playing field with a synthetic surface is located next to the teacher's car park at the Konz school center. Outside there are benches and bicycle racks. Basketball nets and soccer goals are attached to the playing area, which Mayor Weber and District Administrator Metzdorf tried out together with pupils from the Realschule and the Gymnasium and thus inaugurated.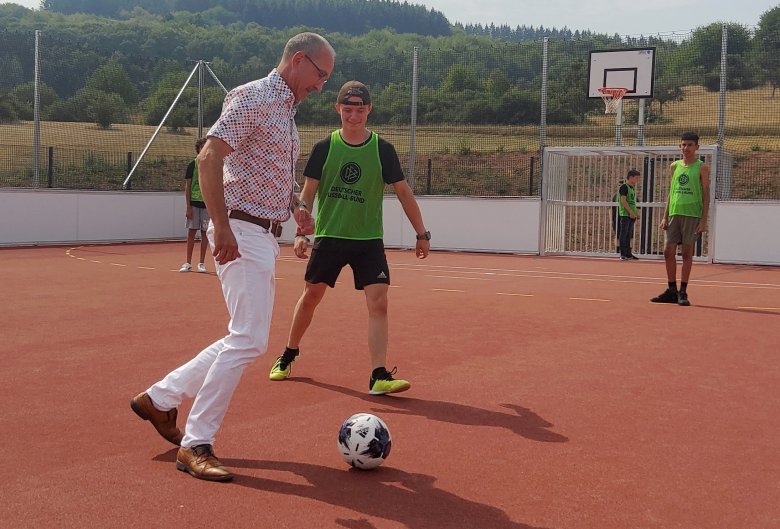 Photo: Mayor Joachim Weber "kicks" the ball with students to inaugurate the new multi-purpose pitch in Konz.
The total costs for the new playing field amount to around 335,000 euros. The district of Trier-Saarburg contributed 165,000 euros to the costs.