Elementary schools in the city and VG Konz digitally equipped - measures from the funds of the digital pact largely implemented

Conc, September 12, 2022
Schools should become more digital. That is the goal of the nationwide support program DigitalPakt Schule. As the sponsor of the primary schools, the city and associated municipality of Konz were granted more than 600,000 euros as part of the program in order to achieve this goal.
Specifically, the money was used to create a "digital infrastructure" in the classrooms: sockets and LAN connections were installed. In addition, there is now fast fiber optic internet in the schools and professional WiFi. There were also interactive touch displays for the classrooms and iPads.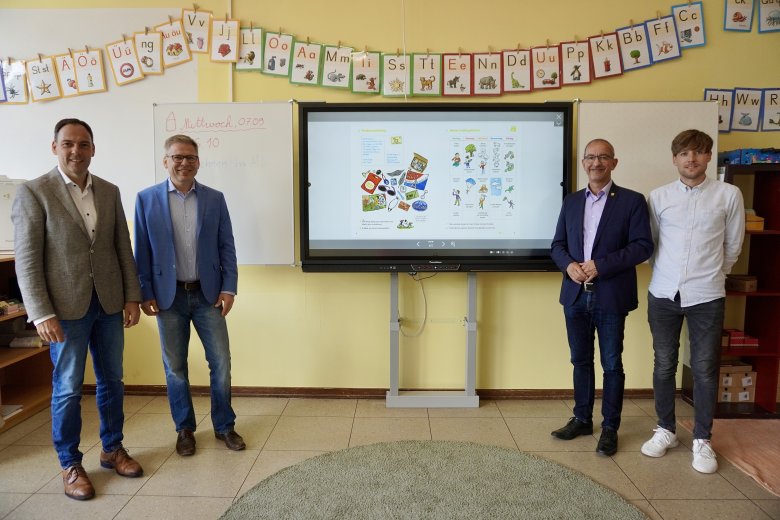 Photo: (from left to right) Guido Wacht (first deputy of the VG), Thomas Kürwitz (principal), Joachim Weber (mayor) and Philipp Hensel (digital representative of the school) in front of one of the digital boards in the elementary school St. Johann in Konz-Karthaus, who has been working with touch displays since the beginning of last school year.
"Even if many of the measures are hidden behind walls, under ceilings or in control cabinets, the primary schools have taken an important step towards digitization," says Mayor Joachim Weber. "Cables, distributors and network connections ensure that students and teachers can access the Internet with their new devices."
With the exception of two things, all measures have now been implemented: The interactive displays for the Pellingen primary school are still missing, but have been ordered. The final work for the WLAN in the Tawern elementary school has also already been commissioned.
The city and associated municipality also received funds from the federal digital pact during the Corona period. This paid for immediate equipment for homeschooling in the form of iPads. The funds also help ensure IT administration for the new devices.