Roman temple complex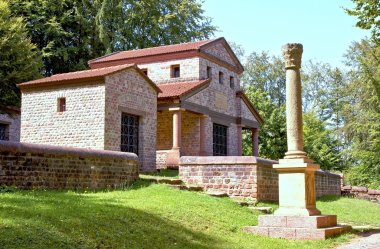 Finds from a Roman temple complex from the early 1st century AD were discovered and excavated in the local community of Tawern.

The temple complex could be partially reconstructed. There are 6 temples there, 2 of which have a gallery, 4 outbuildings and 2 gates. The sanctuary is surrounded by a 46x36 m precinct wall.
Furthermore, a 15 m deep well and several altar plinths have been identified.
The temple complex is looked after with great commitment by the association "Römisches Tawern e.V." and maintained together with the local community. The association was founded on September 30, 1996 and conducts expert tours of the excavation sites and the reconstructed buildings of the complex.