Open-air museum "Roscheider Hof"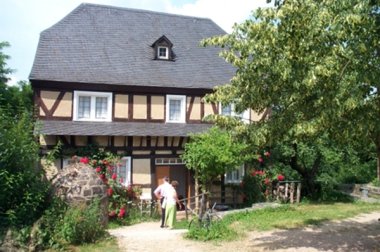 The Roscheider Hof folklore and open-air museum is an open-air museum founded in 1976 in Konz.
The museum is located on a hill above the Moselle valley in the district of Konz-Roscheid on the border with Trier. Its task is to present the folk culture of the region around the Moselle and Saar, which includes the Eifel, Hunsrück and Saarland as well as parts of Luxembourg and Lorraine.
With 4,000 square meters of exhibition space and 22 hectares of outdoor space, the museum is one of the largest German folklore museums.
The Roscheider Hof folklore and open-air museum offers unique insights into everyday life in the past. The core is formed by the building ensemble of the Roscheider Hof estate. On an area of around 3000 square meters you will find extensive permanent exhibitions that illustrate the life of the people in the region.
Numerous houses and farmsteads from the 19th and early 20th centuries were built and furnished true to the original on the open spaces belonging to the open-air museum. The numerous events during the open-air season always attract many visitors.
The association is responsible for the museum Folklore and Open-Air Museum Roscheider Hof, Konz e. V with about a thousand members.