Municipality of Wasserliesch

Wasserliesch with its two historic town centers of Liesch and Reinig is located on the right bank of the Moselle between Konz and Oberbillig. Wasserliesch is considered the "gateway to the Upper Moselle".
The place is well developed for tourism and presents itself to the visitor as an attractive residential community. But the local community has also designated interesting commercial areas for trade and industry.
Liesch and Reinig are interpreted as Celtic proper names, with the first documented mention in 975 being dated as Luuiche and Riniche. In the early modern period, the lords of Chrichingen were the lords of the manor in both places, and in the 17th century they pledged their property to the Karthause of Trier.
The quarrying of sandstones on the Liescher Berg and the Moselle shipping as well as agriculture opened up as employment opportunities at that time. In 1878 the town was in a convenient location, as the newly opened railway line passed the Upper Moselle and was improved in 1931/33 by the construction of the Upper Moselle Road.
Sights - e.g.
Old camp, Wasserliesch

Remains of a Roman camp, south-western corner of the high plateau of the Liescher Berg. The camp made use of the natural protection with the steep slopes on the west and south sides and the eastern ledge. The facility, which remained in the consciousness of the population as an "old or Roman camp", may not have been a camp inhabited for long as a protective post or control fort in the 3rd century.

Orchid paradise Wasserliesch

A 6 km long path meanders over the hills south of Wasserliesch through a calcareous grassland area overgrown with orchids and other rare plants. The circular hiking trail starts at the "Orchideenpfad" hiking car park, on the plateau of the Loeschemer Berg, which is a nature reserve. Hardly any other piece of land in Germany can come up with such a density of different types of orchids. Purple orchid, ominous spur, goat's belt tongue, martagon lily and even yellow gentian compete for the favor of attentive hikers. But not only rare plants, but also numerous animals find suitable habitats here.

Grana Monument

The monument itself was erected in the Wilhelmine era after the war of 1870/71. It is remarkable that the Grana monument does not adorn the statue of General Grana, but rather a rather belligerent imperial eagle. Two Franco-German wars followed even after the monument was erected. General Grana became famous when he crushed the French troops under Marshal Crequi in the Battle of the Konzer-Brück (i.e. the Saar bridge near Konz) on September 17, 1675. The joy after the battle at the Konzer Bridge didn't last long either. As early as 1681, Konz was again occupied by French troops...
---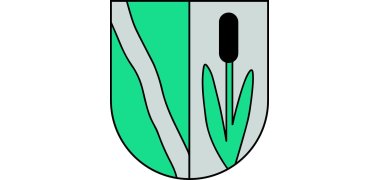 Heraldry (Heraldry)
The coat of arms shows in green in front of a silver-split shield a silver oblique right-hand stream, behind a green sedge plant with black spikes.

The coat of arms is eloquent: Liesch, Liesche, Middle High German liessche, liske

Old High German, lisca, lesc = the sedge (Förstermann, Buck and others)

---
Public facilities