temmels

Located on the Upper Moselle between Oberbillig and Nittel, the town of Temmels is characterized by both agriculture and viticulture. The community is connected to the transport network by the main road and by the connection to the rail network. Both traffic routes cut through the local situation.
In 634, Temmels was first mentioned in the will of the deacon Adalgisel Grimo as Villa Tamaltio. Like the neighboring towns, Temmels also belonged to Luxembourg from the Middle Ages to the French Revolution. Since the 13th century, the Teutonic Knights have held estates here.
On July 18, 1946, Temmels, together with 80 other communities in the districts of Trier and Saarburg, was annexed to the Saar region, which had been separated from the rest of the French occupation zone in February 1946 and was no longer subject to the Allied Control Council at the time. On June 6, 1947, this territorial outsourcing was withdrawn again except for 21 communities, so Temmels came to the 1946 newly formed state of Rhineland-Palatinate.

Sights - e.g.
Village square with fountain, parish church of St. Peter, wayside cross with a view of the town and Luxembourg, chapel, Querein houses typical of the region, Georgshof castle ruins
---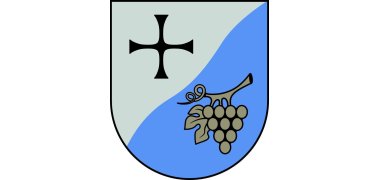 Heraldry (Heraldry)
"Shield divided obliquely to the left in a wavy manner, in front a black floating cross pattée in silver, in the back in blue a golden grape with a golden vine leaf."
The wavy diagonal left division of the shield symbolizes the location on the Moselle. The black floating cross of paws was the cross of the Teutonic Order in Trier, which had its country seat in Temmels.
The cross can also be interpreted as the early Christianization of the community, which is mentioned as early as 634 as the oldest village parish of St. Peter in the Diocese of Trier. The gold-colored grape with gold leaf on a blue background in the lower field indicates one of the most important sources of income for the community.
---
Public facilities