Municipality of Onsdorf

The small, still strongly agricultural town is located in the northwestern part of the Saargau in a valley. To the east above the village, the old Roman road from Trier to Metz led along the "Kimm", today signposted as the G11 long-distance hiking trail. Further traces of settlements in the district therefore also point back to Roman times.
The place is first mentioned in 1030 as Omestorff. In terms of the parish, it formed a branch of the parish of Nittel. During the early modern period, Onsdorf belonged to the Duchy of Luxembourg. During the 19th century the village slowly grew from 163 (1818) to 260 inhabitants (1911). The Catholic Church of St. Hubertus was built in 1929 as a hall building with an attached sacristy in an elevated position to the west of the site using older components.
District road 110 dominates traffic, along which the buildings with long and closed eaves are oriented parallel to the slope. The agricultural farms are located along the state road. It is interesting that after the Tranchot map of 1817, the outline of the site has not changed.
the Branch Church of St. Hubertus is topographically exposed and thus offers an interesting silhouette. In addition to the Catholic branch church of St. Hubertus, houses no. 14, 45 and 46 are designated as monuments (source: monument topography).
Sights - e.g.
Catholic chapel - especially the richly decorated altar and the Roman sacrificial stone in the porch, old weather cross (processional cross for good weather), typical farming and winegrowing village
---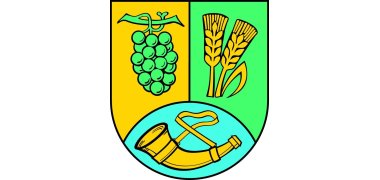 Heraldry (Heraldry)
Above a blue mountain, covered with a golden hunting horn, split, in front a green vine in gold, behind in green 2 golden ears of corn.

As a church and local patron, Onsdorf honors St. Hubertus. He has been the patron since time immemorial and is already known to de Lorenzi. The chapel in Omstorff is mentioned in the visitation log of the Remich chapter in 1569. A hunting horn is included as a symbol of the local patron St. Hubertus.

Onsdorf has largely retained the original agricultural structure. "The vineyards west of the road (from Tawern) in the districts of Meyersberg and Wingertsberg are the center of an innovation that led to the reintroduction of viticulture around 1900 after more than 100 years of exposure in the surrounding districts and encompasses around 65 hectares of vineyards." (Werle, Trier and surroundings, Berlin-Stuttgart 1978, p. 194). 
The local council corresponded to this equally important agricultural and viticultural structure by including a symbol of viticulture (vine) and agriculture (ears of corn).

---
Public facilities