Groundbreaking: Westconnect starts broadband expansion in the Oberemmel, Kommlingen and Krettnach districts of Konz

Konz-Oberemmel, February 15, 2023
Symbolic groundbreaking in the Oberemmel district of Konz: Westconnect GmbH is now bringing fiber optic networks to the Kommlingen, Oberemmel and Krettnach districts. As of today, the company is expanding the fiber optic network in "Fiber To The Home" (FTTH) construction. With the expansion, private households and businesses are future-proof: The new fiber optic network offers transmission rates of up to 1,000 megabits per second. The broadband expansion in the districts is expected to last until the end of 2024.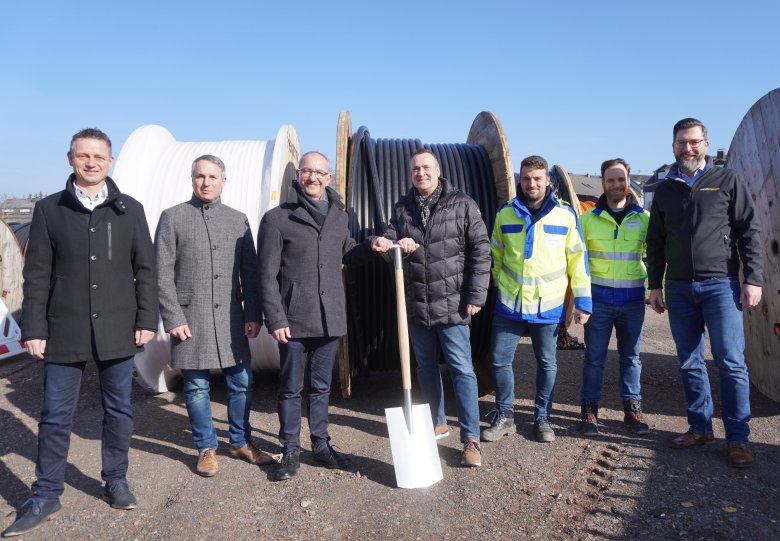 Photo: Coming together for the start of construction for the turbo internet in the district of Konz-Oberemmel: Marco Felten, Rainer Jakobs, Joachim Weber, Hermann-Josef-Benzkirch, Dominik Bosl, Christoph Pütz, Christian Nathem. (Photo: Susanne Nenno/Verbandsgemeinde Konz)

For the symbolic start of the civil engineering work, the mayor of Konz, Joachim Weber, came together with representatives from the districts and from Westconnect in Oberemmel. Mayor Weber said: "Today, sustainable broadband coverage is of central importance and a significant investment in future-proof, digital infrastructure. Fast Internet access is of great importance for most people and also increases the attractiveness of the region as a residential and commercial location in the long term."
Marco Felten, head of the Trier region, explained: "When expanding the high-speed Internet, we are not just limiting ourselves to the interests of the larger cities and communities, but are looking at coverage throughout the entire service area. We are happy to support the city of Konz and the districts in order to further expand the digital performance of schools, business and private households".
The implementation of the measure was dependent on a pre-marketing quota. Due to the very positive response from citizens and companies, Westconnect can lay the fiber optic network and connect the districts of Konz to the fast data network. Parallel to the start of construction for the glass fiber network in Oberemmel, civil engineering is also to begin in Kommlingen. The ground-breaking ceremony in Krettnach depends on the further course of the ongoing municipal measures to renovate the through road.
Information and advice
Westconnect GmbH is responsible for expanding the broadband network in cities and communities. Customers in the expansion area are addressed and suitable broadband products are sold as a service under the "E.ON Highspeed" brand by E.ON Energie Deutschland.
Interested residents and companies still have the opportunity to take out an E.ON high-speed product. Information about products and services is available online at www.eon-highspeed.com or via the free information hotline 0800-9900066.