Konz: Maierspark can now be entered after the redesign

October 19, 2022
The construction work in Maierspark was already completed in July. But the site fence had to remain in place for the time being, because nature was supposed to recover, the grass needed time to develop and trees also had to be planted.
Anyone who walked past the park in summer saw only brown areas because of the drought for weeks. Only when it began to rain again after the summer holidays did the areas gradually turn green and the trees could be planted. That is why Mayor Joachim Weber invited the deputies and parliamentary group chairmen of the city and association councils as well as representatives of the Hömme planning office and the construction company Wacht to open the Maierspark to the public together.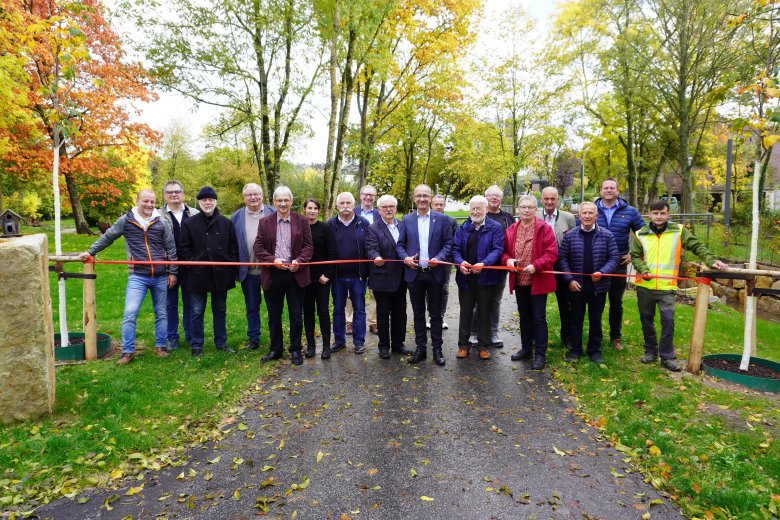 Photo: Representatives of the city and municipality of Konz cut the red ribbon and thus symbolically open the Maierspark to the public.
From now on, walkers can walk through the park again and get an idea of the redesign: the areas have been redivided as a result of the renaturation of the water bodies. Three islands were created, which are connected by bridges and footbridges. Water features and stepping stones were built so that children can play better in the water. Other innovations include a barbecue area, relaxation loungers and a multifunctional area with a ball net to enable various sports.
"I think the redesign was really successful," says Mayor Joachim Weber. "It has upgraded the Maierspark as a local recreation area and I'm sure that we can celebrate a great inauguration party there next spring".
The redesign of the Maierspark was funded by the federal and state program "Living Centers" (formerly "Active City Centers") and the "Blau Plus" campaign of the state of Rhineland-Palatinate.